To compete in today's global economy, the old methods of marketing simply aren't enough. First of all, your business must be found online. Here's where SEO company services help your business. Yes, word of mouth still works, but it's tough to rely upon referrals alone. Good customer service is no longer an advantage; it's now expected.
So what can you do to separate your small business from the pack in today's digital world? Here are four strategies to distinguish your business.

1. Provide Entertaining, Educational, Valuable Content that Solves People's Problems
People are busy. They want solutions. Yet, lots of folks spend hours watching YouTube videos, browsing their Facebook Wall, and "tweeting" friends. People are busy, yet they're bored. If you entertain them, you'll get their attention. If you engage and educate them, you have a shot at earning their business.
2. Be Genuine and Real
Use email to your advantage. Email allows you to communicate with prospects and customers on a personal level. With an email list, you are able to build relationships with multiple scheduled messages on auto-pilot. But don't abuse this opportunity. Don't spam your prospects and customers with offer after offer.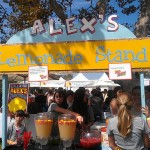 Deliver valuable information. Follow up and thank them for doing business with you. Ask for their feedback and opinions of how you're doing. Ask them what you could be doing better. Do more than provide good customer service. Engage your customers openly and honestly.
3. "Scale Your Caring"
Gary Vaynerchuk talks about changing consumer expectations. If you're unable to "scale your caring", you're going to lose. Big brands are engaging consumers on Twitter. Consumers can now interact with name brands, celebrities, and their favorite sports stars on Facebook.
In your business, you must be able to recognize your star customer. Spread the word with a customer success story in a blog post profiling one of your customers. Spread the story to your Facebook Business Page. Create a YouTube video interview with the customer and also share this on Facebook. "Tweet" a link to the story on your blog.
Use the free social media tools to spread your message and make it easy for your customers to spread word of mouth about your business. Use social media tools to build relationships with both prospects and customers.
4. Be Found EVERYWHERE
Choose a niche and dominate your niche. Position your business as the authority, the expert. Leverage your valuable content in the search engines. This positions your prospects to seek you out, rather than you chasing them. Use professional SEO company services if you need help getting found online.
Follow these four simple, inexpensive strategies to distinguish your business and compete with the biggest brands.
Patrick Whalen is a part of an elite team of writers who have contributed to hundreds of blogs and news sites. Follow him @2patwhalen.