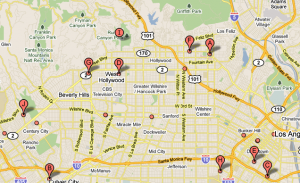 Most small businesses often target their community for sales.  For one, nearby customers constitute repeated sales over time.  Another reason why businesses focus on the local community is because some just do not have the logistics or the scale to fulfill international or long-distance orders even if they could shore up the demand for their products beyond borders.
If small businesses target the local community, then search engine optimization efforts shouldn't focus on broad search.  Local search marketing is an investment that you could make for your business, especially if you are going for the local market.
Here are four main benefits of getting into local search for your business:
1. Local search marketing is easier.

The fact is, local search marketing is much easier to do than a full-blown SEO campaign.  For one, the things you need to know and do are pretty straightforward.  In local search, you only need to make sure that you have consistent contact details such as name, address, phone number, website URL, among others.  You also need to provide as many information about your business, operating hours, products and services.  Photographs help too.  In contrast, those who are trying to optimize their websites for search engines need to go through several processes, such as keyword research, off-page optimization, on-page optimization, linking, among others, to succeed.  Most SEO activities are based on best practices or what has been observed to work in the past.
While we're not advocating that you should forget your SEO, we encourage you to prioritize local search optimization.  This way, you can truly own your space on the Web.
2. Local search places your business in front of potential customers.
One of the things that business owners should remember is that the more profiles they have on local search sites, the better.  These days, it is not enough to just have a profile on Google Places; you would need to have a presence on Bing Business Portal and other similar directories.  Not only will this strategy make sure that you have a correct and proper listing wherever people might look, but you also get to reach more people and convert them to customers.
3. Local search encourages you to be more competitive and creative.
Because local search lists your business alongside your closest competitors, you are kept on your toes, especially when differentiating your business or your brand from others.  This will teach you to be creative.  On the other hand, you also get listed alongside the best in your industry.  Just imagine, if you own a hotel, you have the ability to be listed alongside a Hilton or a Marriott in your area.
4. Local search enables you to have a better online catalogue.
Enhancing your business profiles with a superbly written business description, with photographs of your establishments and products, and with other information about your business and yourself can give you a great online catalogue.  Think of it as a way of giving a business presentation to people who stumble onto your profile.
Plus, with most sites getting signals from review sites, you have a credible list of testimonials on your profile page.  This is telling your potential customers that you are
good, and others can vouch for you.
Located in sunny Southern California, SEO Inc. is a Search Engine Optimization Company specialized in creating SEO, Social Media, and Local Search Marketing solutions for businesses of all sizes.