"Gettin' good players is easy. Gettin' 'em to play together is the hard part." - Casey Stengel
The demand for excellent content and thought leadership in tech grows more ferocious every week, it seems, putting a lot of pressure on marketers, outsourced or freelance workers, and remote teams, to maximize creative output. The implicit disconnect between a remote team and an office team can put a strain on creative flow that's difficult to overcome.
Regular brainstorms can create not only an outlet for relevant and productive discussion, it can also create fantastic rapport among departments which might otherwise be out of touch. There are some exciting developments happening in the marketing tools industry; get your feet wet with some of these basic remote brainstorming tools to get an idea for the kind of tools you might one day invest in.
Video Conferencing
A crucial element to remote brainstorming is real-time thought exchange via video. It takes time for everyone to get comfortable and get into the flow of video conferencing and speaking in turns, so experiment with some of the tools that have chatting capabilities.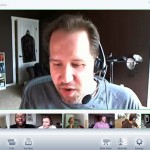 One of the most popular video conferencing tools is Google Hangouts. This free tool was undoubtedly the highlight of Google+ when the social network created by search giant Google first launched. Intending to compete with Facebook, marketers quickly found Google Hangouts to be conducive to business meetings, training, and brainstorms, among other uses. Hangouts can be recorded for future reference.
Another popular tool is Skype, although there are various pricing structures for business use. There are some bells and whistles to paying for Skype for business, though, including chat capabilities. Skype is a platform that team members are likely to have experience with already (they may have the mobile app, too) which is a big advantage. One of the most exciting brainstorming programs working with Skype right now is Idroo, an "online educational whiteboard" where users can trade images or draw in real time.
Sometimes employees might be uncomfortable with using their personal social media accounts for work (such as Google+) or installing new software. Some of them may not even own webcams. Whatever the reason might be, Tinychat might be useful to you. It's a browser-based video chatting service that's free and doesn't require users to have webcams to participate via chat. Chatting capabilities for video brainstorms are especially handy – sharing links, recording ideas, and allowing users to post ideas without interrupting the talker.
Post-Brainstorm Follow-Up Tools
Following through with some of the highlighted ideas intercepted in your brainstorm session can be tracked on online project management software. You might have a system for this already, but it is recommended that you track ideas springing from brainstorms, and for several reasons. Scalability and effectiveness of everyone's time and ideas is important to most bottom-lines; it's also incredibly encouraging for remote team members to watch their idea happen, and their enthusiasm will be contagious in future brainstorms.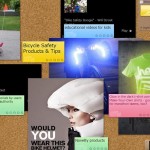 Keep the creativity going, outside of regular brainstorms. Sometimes great ideas happen on lunch breaks, or even at home. There are several options for collaborating continuously on the cloud. One of the most visually appealing tools might be Lino – essentially a corkboard for virtual post-it notes, photos, video, and bookmarks. It's not a perfect tool yet, but its UX and visual capacities alone can communicate ideas extremely effectively.
If you're not afraid to have your ideas and inspiration sources public, consider creating a Pinterest board for your team to collectively add to. This could be a good way to share industry news, track competition, or bookmark something you'd like to bring up at the next brainstorm.
Guest author Malia Anderson is a freelance writer and works as a remote team member frequently. When she isn't checking out new online toolsets, she enjoys playing the ukelele and making pottery.
Photo credit: Adria Richards