Business cards are a great investment for a number of reasons. Primarily, business cards allow you to effectively market a concise amount of information about your company or your individual skills. Cards can also be custom made to your specifications, and can make use of a wide range of materials. Getting high quality business cards can make the difference between making a significant connection and an impact on potential clients and partners, and are arguably essential to modern networking. These benefits, and more, are developed below:
1 - Building a Brand
A good business card should be about promoting a brand, whether that's a company one or your own personal identity. Everything about the card, from its colouring through to its logo and copy text should be about making a unique sell for the particular features of a brand. Company information, in this way, is secondary to creating an eye catching design that will forge an emotional connection between you and the viewer.
2 - Developing Networks
Business cards are able to generate and sustain networks with clients and other partners. Handing over a business card means that someone is less likely to forget you, which can be a problem at large conferences or meetings. As a result, it's important for business cards to be as distinctive as possible to make a special impact, and to act as a permanent reminder of your values.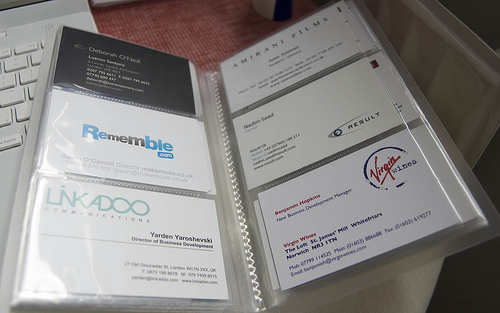 3 - Flexibility and Production
It's worth spending a lot of time on the design of your business card, as this investment will pay off with a unique card. You can experiment with typeface and graphic design, and the time spent on the card will be translated into a detailed demonstration of your company or personal identity. Cards can be easily produced and distributed, making it possible to have a backlog of cards that you always have ready to hand out to people when you need to.
4 - Customisation
You may have to alter your business cards depending on changed circumstances, from altering an official title, to experimenting with new company colours. Card manufacturers and printers can easily respond to specifications to produce a high quality card. You can also choose to develop new cards that make the most of different materials, from matte to metal and aluminum. Manufacturing can be problematic, though, if you've already ordered a lot of cards that need to be changed. As a result, it's worth thinking carefully about all aspects of design before placing an order.
5 - Long Term Professional Impact
Anyone not using a business card is arguably at a disadvantage when it comes to networking. The question should not be whether or not you need a business card, but rather what you choose to do with it. While many people are focusing on website design and their social profile online to develop professional networks, a tangible card made from strong materials, and displaying careful attention to design, still makes a long lasting impression. If you are serious about your business and your personal brand, then a business card is the way forward, and makes for an excellent investment.

Sebastian recommends that if you're in the market for business cards that you use Vistaprint. They offer something for everyone including a free business card range.