When considering a trade show to showcase your local business and specialty talents, it is important to consider a few things to decide if it's going to of value and worth the investment. Will the trade show allow you to reach your target audience? Will the Return on Investment (ROI) be substantial enough to cover the initial cost, but also future costs, such as advertising, merchandising, etc? How will you most effectively set up your booth or table to maximize exposure?
You will need to begin by setting goals for your local business. It may be in your best interests to have a few opinions to make your decision easier. Brainstorming with associates and colleagues could be the best way to start.
Once you are committed to participating in a trade show, you will need to begin focusing your attention on your marketing strategy.  What will work best, both visually and verbally for your target audience and for your display space?  It is important to check with the host venue to get details, such as booth size, table size, location of booth in venue, etc.  This information will help you tremendously.
You may choose to do a PowerPoint presentation, or print ads (such as banners and signs) could work better for the space. Doing a display of your goods and services has tremendous visual impact. Include hand-outs highlighting your local business and don't forget the business cards! You can't sell it if people can't reach you.
When considering all of these things, it is imperative that you are thinking about your call-to-action, (CTA). This is a marketing strategy that prompts visitors and potential customers to take some form of action. It may be attending a demonstration, visiting your local business for an open house, or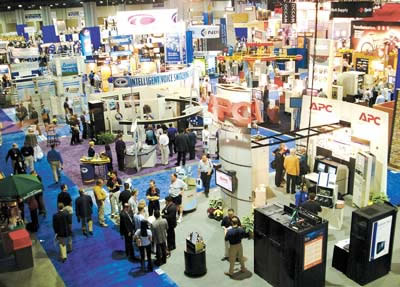 joining your mailing list to stay abreast of new products and services, as well as daily, weekly, or monthly specials. Having a clear CTA goal will help generate more leads and maximize your ROI.
Make sure that your materials are representing your local business in the best possible way. Advertising and marketing tools and props can be expensive. This is why your CTA and ROI are so important to consider. You also want to make sure you're branding and marketing at your booth are sending a consistent message. Also, remember that you and your associates will be representing your local business and product. It is absolutely necessary that you and anyone 'manning' your booth are well versed, knowledgeable, and able to sell the product and/or services you are advertising.
The trade show can be a fantastic way to reach many people at once. Keep in mind that you will be on stage and everyone that passes will see you. In addition, as you walk the floor to network, you want people to remember you. Professionalism and common courtesy go a long way towards making the event successful for your business. Get out there and show them what your local business has to offer!
Author Chris Marentis is considered an expert in the field of local business marketing and is the CEO and founder of the Surefire Social Marketing System.